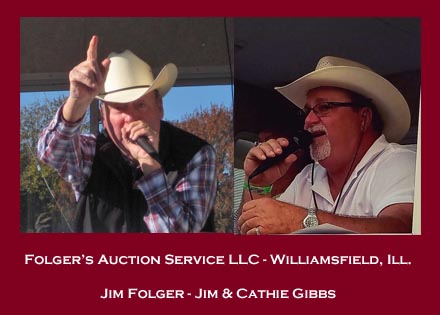 WELCOME TO FOLGER'S AUCTION SERVICE!
PROVIDING EXCEPTIONAL SERVICE TO BOTH SELLERS AND BUYERS.
SPECIALIZING IN PERSONAL PROPERTY, REAL ESTATE, FARM LAND & EQUIPMENT.
St Jude Auction total of $84,000.00 and grand 2021 Benefit total of 130,248.00!!!!!!!!! WOW!!! Thanks to ALL who contributed in any and every way!!!! We are honored to be a part of this amazing tradition!!!
RECENT LAND & REAL ESTATE AUCTION RESULTS
SOLD – SATURDAY APRIL 24TH IN KNOXVILLE, IL
SOLD – $5,500 PER ACRE – WEDNESDAY MARCH 24, 2021 – LAND AUCTION OF 80 ACRES (+/-) IN COPLEY TOWNSHIP, KNOX CO., IL
Located at 1860 Congregation Rd., Victoria, IL 61485. Turn onto County 12 off of Rt. 150 and travel north 5.2 miles to 1850 N (Manson Heights Rd.) then turn East .6 miles to land site. The Auction will be conducted at the Watering Hole in Oak Run, located at 1468 Knox Rd. 1725 N. Dahinda, IL 61428
SOLD-$150,000 SUNDAY, OCTOBER 25TH, 2020 – HOME IN TOULON, IL

FOLLOW US ON FACEBOOK
Disclaimer: Folger's Auction Service accepts Cash, Check, and Credit Card for all personal property (household items). Credit Cards are NOT accepted for real estate transactions.